Home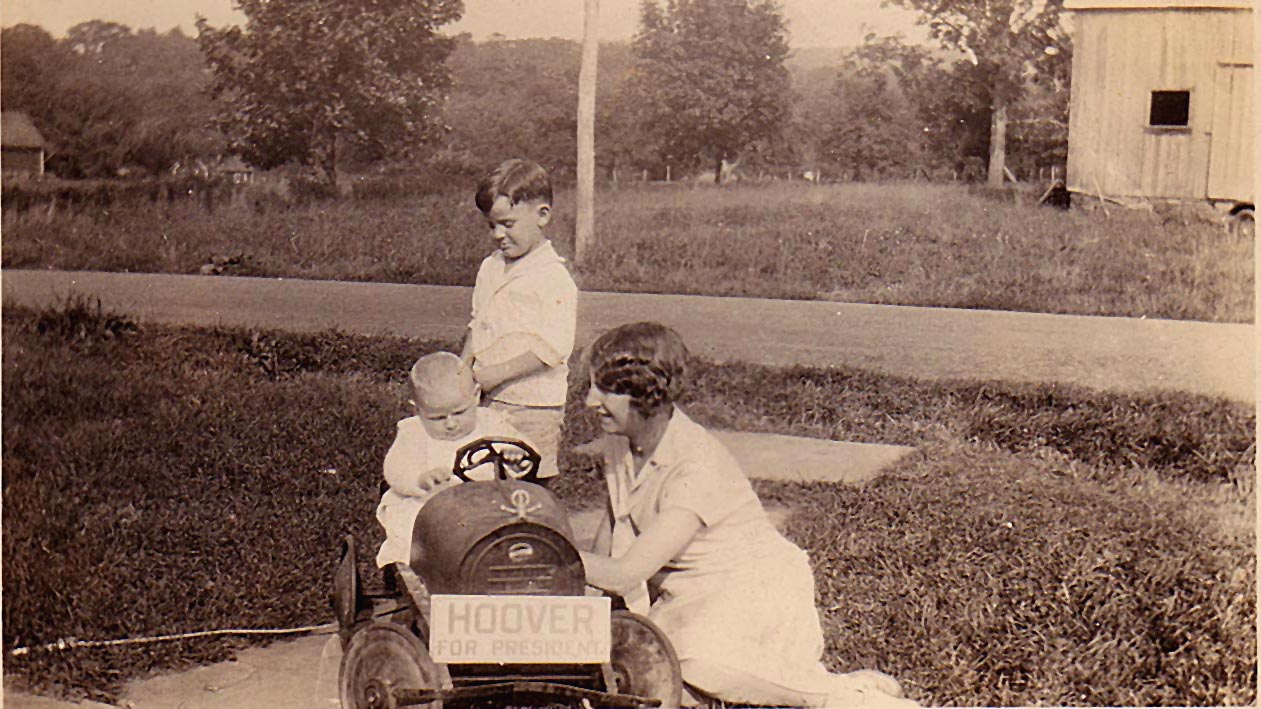 The Griffith children on the East Windsor farm



The Great Train Wreck

On July 8, 1926, around 8:30 PM a train rounded a bend, and headed toward Dead Man's Crossing just north of East Windsor New York where the Griffith family maintained a farm. Sitting on the tracks was a converted truck, stalled, with Elizabeth Griffiths and her infant son Owen Richard in the front seat. Four girls, all sisters, and the husband Hugh waved at the train to stop but it appeared the engineer was not paying attention. Hugh raced down the side of the hill, jumped on the train, climbed to the engine and shouted at the engineer, who was sleeping. Moments later the train crashed into the car, crushing it and pushing it several hundred yards down the tracks, with mother and baby trapped inside. The collision was so great as to throw Hugh from the engine roof of the train some dozens of yards forward where he landed with little injury on side of the tracks.

The Griffiths sued the Delaware and Hudson Company for not maintaining Dead Man's Crossing safely, since it had no gates or lights or alarms, despite the fact that trains traveling 12-18 miles and hour and carrying many cars loaded with heavy freight approached regularly with little line of sight or warning. The Griffiths won 2745.60 in a lower court, and the case was appealed by the railroad to the Supreme Court of the State of New York and on May 19, 1932 the Griffiths won again but with a reduced settlement of $2500.00 While this may have been a fair amount of money in 1932, it did take 6 years and a number of attorneys to reach the settlement, and Elizabeth Griffiths appears to have suffered health problems thereafter, though it is difficult to say what was caused by the accident due to the poor representation the Griffiths had compared to the Railroad. Indeed, it seems unlikely that a moderately poor farmer should have prevailed against the Railroad Lawyers in 1927 in the first place, let alone have survived a challenge before the State Supreme Court.

Other interesting family details come to light during the testimony. The four Jones Sisters testified, and the testimony of Evelyn Jones, then employed as "a secretary to Dr. Moski" at the Heicke Gelatin Works in New York City was most helpful. Also interesting was Hugh Griffiths testimony about how fast the train was going, because he had chased down trains often as a boy in Poultney Vermont.He stated matter of factly that it was not difficult for him to jump aboard a train going in excess of 12 miles an hour and climb to the roof of the Engine in a wink, something he testified to have done many times before.
****BELOW: Hugh Griffith Sr. holding Hugh Jr in 1928, probably March or April, on the farm near where the accident occurred. The area near the farm is still rural and the train crossing formerly named Dead Man's crossing is still there near Doraville and can be found on Mapquest HERE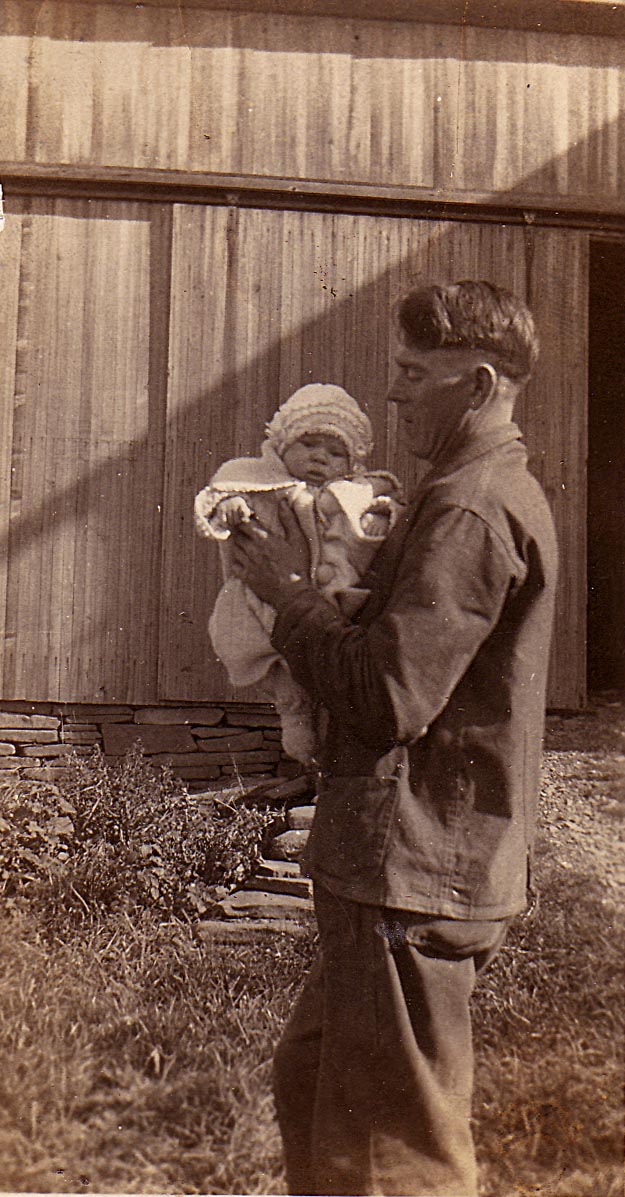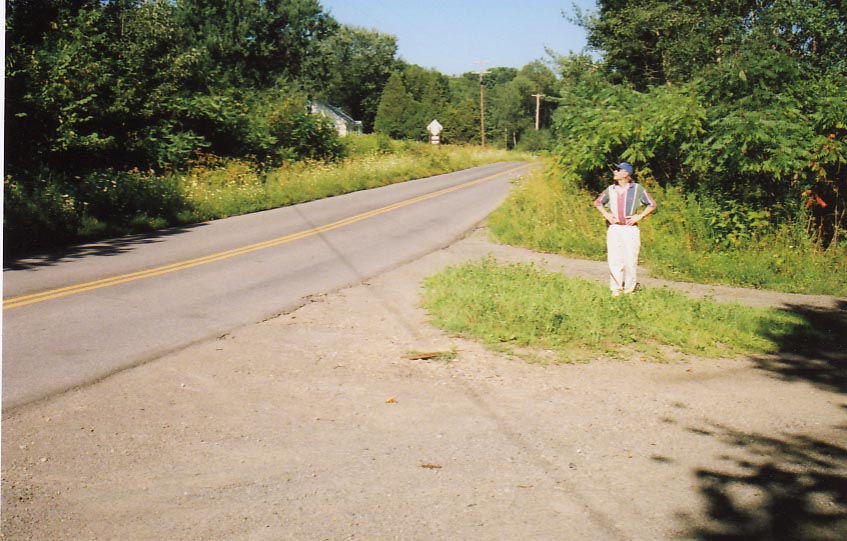 Hugh Griffith Jr standing at the railroad crossing in 2006, 80 years after the collision. The train was traveling from Left to right in the picture and the car was stalled up the hill straight ahead near the sign on the left side of the road. The road was a 'macadam' in 1926 and was graded since. An original rail can be seen just off the edge of the grass. The majority of the rail is buried a foot below the current highway. Some of the steepness of the hill has been graded down by the modern road and the rails would have been deeper down.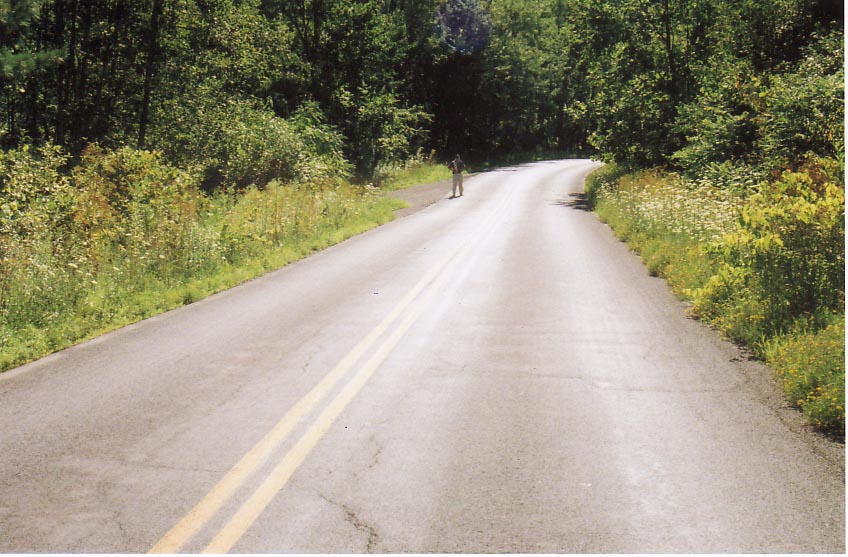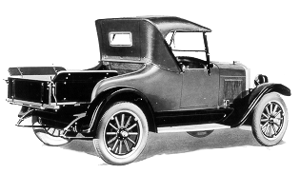 Looking down to Dead Man's crossing from the spot the 1921 Chevy truck stalled. It is a gradual down slope to where the person is standing in the road, at the spot where the collision occured. Above is a picture of the model truck that the Griffiths were riding in.The Train came from the right, and was obscured by a hill to the right and a ridge. The truck rolled back about 2 mph and settled with the back of the truck facing the oncoming train, which had 72 empty coal cars. The Engine alone weighed more than 200,000 lbs and was traveling 14-15mph when it struck the truck. It may have been close to 900,000 lbs x 15mph against a truck with little protection. It pushed the car more than 400 feet after impact. It was reported that Elizabeth Griffiths suffered a broken tailbone but the X-ray technician had very little experience reading them, and the doctors were less than thorough. In any case she suffered many physical ailments thereafter.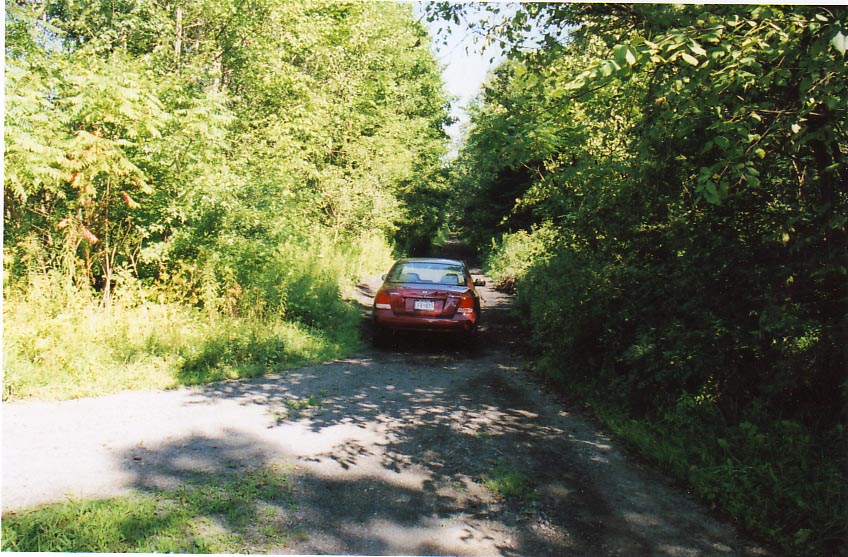 The path the train took after hitting the Chevy truck. It pushed the truck past where the car is sitting. The tracks have been pulled up and sold but the train bed is still there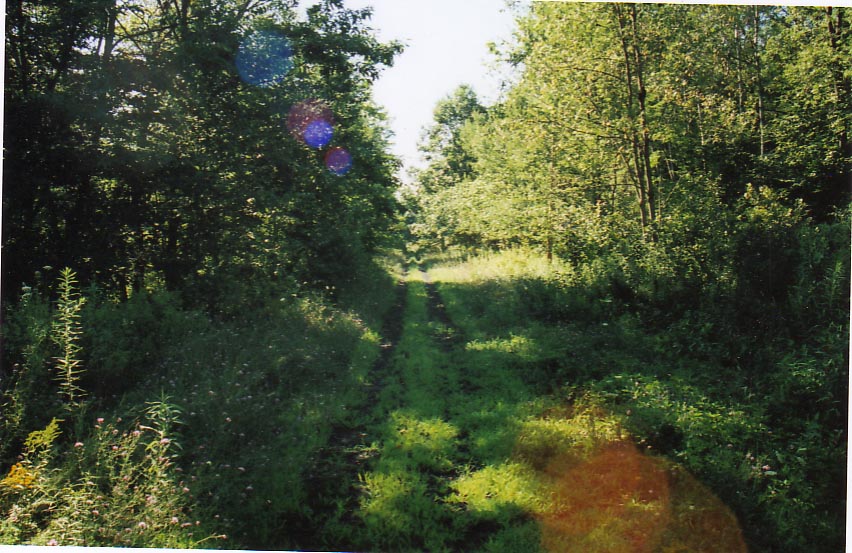 The Train came down this track right at the camera. the ridge is on the right, and a hill was just a bit further up the right.